Bettella s.n.c. was born in Padova in 1973 as a precision mechanics workshop; in 1985, at the request of its founder Antonio Bettella, it embraced the production of pneumatic paint pumps, specializing and becoming one of the main benchmarks for the clients.
In 2004 the company proposed the creation of an highly innovative system intended to guarantee the utmost level of product reliability and, at the same time, start a process which allows to obtain a consequent increase of quality of all the solutions dedicated to interested clients.
Innovation, evolution, technique: these are the main concepts on which our company philosophy is founded. Our philosophy pays particular attention to the constant update of our professional team, whose only real aim is always to provide the best offer available on the market.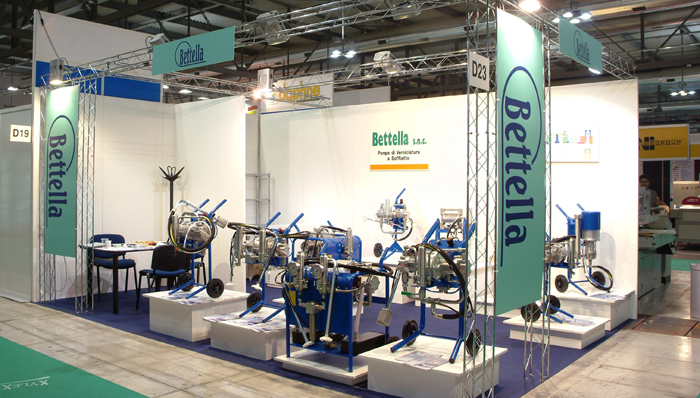 Mission
Bettella s.n.c. works in Italy and abroad n the sector of production, selling and overhaul of low, medium and high pressure pneumatic paint pumps and bellows pumps: it is a leading company whose only aim is to offer both high level and long-lasting products and services.
Besides the unquestionable reliability of the pumps we put at the clients' disposal, the company is also specialized in the wide and varied field of painting, and we are able to fully meet the needs of sellers and professionals who are in very close contact with industries, tanneries, furniture factories, artisan business, and entities in the naval sector.
For many years now, Bettella s.n.c. has been proposing certified ATEX EX IIGgT4 solutions, in compliance with the CE regulations, which are able to guarantee easy use, maximum strength and great reliability: these are highly professional solutions requested by clients, who are always satisfied with guaranteed performances..